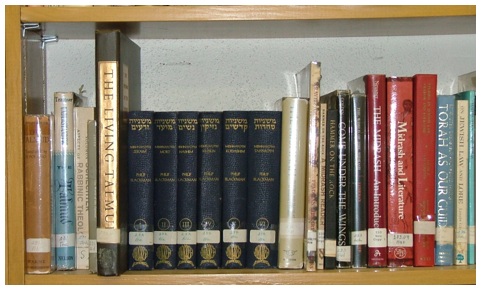 The Nathan Reifler Memorial Library houses the only Jewish circulating library in the Mid-Hudson Valley, with selections including Jewish religious and reference materials, classic and current Jewish fiction, biography, philosophy, and history, as well as a special children's section. The library collection also features recordings, audio and video tapes, CDs and DVDs on a wide variety of Jewish subjects.
Online Catalog
The Library Committee has entered all 3,500 titles, adult and children's, held by the Library into an online data base that is now accessible at https://www.librarything.com/catalog/VTLibrary.This link will open in a new window, at the upper left of which you will see the following header.

Below the header will be an alphabetical list of items with titles and other relevant information. To see a listing of titles by subject categories, click the tab labeled "Tags." To return to the alphabetical list, click "List." You will also find toward the top right (not shown here) a field labeled "Search your library." This facility can be used to search for particular authors, subjects, or words in the title of the book. Note that the pages you reach through the above link are public-access. You do not need to sign in.