Shabbat Service and Oneg via Zoom
Friday, May 29th
7:30 p.m.
(See email newsletter for link)
Visual Tefillah- no prayer book needed
Join a Reform congregation with a rich history and discover the powerful relevance of Judaism today.

Participate in projects that improve our world.

Delight in spiritual and intellectual growth.

Share your joys and challenges and achieve a sense of peace and belonging.

Enjoy opportunities for prayer, learning, social interaction, and Jewish and personal life-cycle support.

Enrich your life with meaningful rituals, caring friendships, and joyful celebrations.

Join a welcoming congregation where you are accepted as you are at any level of involvement.
Dear Vassar Temple members,
 
The temple Executive Committee conducted a detailed review of our operations and activities and the impact of the current health crisis.  We enacted several policies designed to maximize safety while making it feasible to continue participating in temple life during this extremely challenging time.  Please take the time to read all of the following information about cancellations and changes in our practices.  We will reassess conditions continuously and increase or decrease restrictions in response to changes and to guidance received from governmental and other sources.
 
Religious and Hebrew School will take place as scheduled; we will follow the lead of the local school districts or government directives and contact the school families as needed.
 
An announcement will be forthcoming regarding the remaining discussions in the Adult Education series scheduled for 3/18 and 4/1.
 
Shabbat services, Learners' Service, and Torah Study will take place as scheduled.  Tonight's Happy Hour and oneg will also proceed, with additional protocols for serving food.
 
New Paths is scheduled next for 4/4, and an announcement will be forthcoming.
 
Onegs and other food service are suspended until further notice in order to eliminate food handling and reduce social contact.  
 
Please observe the following protocols at all times:
 
1.  Maintain good hygiene when coming to temple for any reason:  wash your hands!  Please have concern for others (i.e., if you think you have any chance of contracting the virus, it's best to err on the side of caution and not attend).  We will be implementing additional disinfecting procedures in public spaces. 
 
2  Social distancing:  please utilize the space in our sanctuary to sit apart from others.  Please conduct all possible business with the Temple office by email or phone in order to reduce contact or time spent on-site. 
 
3.  If you are ill or quarantined, please let the Temple office or the Rabbi know so that we can support you.
 
While the services listed above will continue to take place, we are also working on a plan to live stream for those who are unable to attend. Provision is also being made for our committees to continue their important work via online meetings.
 
Your Temple family will continue to be here for you as we navigate this crisis together. With best wishes for your health and for the entire community's recovery, and wishing you a Shabbat Shalom.
The Vassar Temple Board of Trustees
     With antisemitism on the rise, it is a most unsettling time in our country, especially for the Jewish community, but for all who seek peace and understanding.   Sadly, it does call for greater vigilance and security.  We are grateful that local law enforcement has increased its presence around synagogues, and we appreciate your cooperation with our enhanced building security policies. 
     Even as we must, unfortunately, take these steps, it is incumbent upon us not to let fear inhibit us from living our lives publicly as Jews; for if we do, then those who hate us will indeed be victorious.  "The whole world is a narrow bridge," taught the great Hassidic master Rabbi Nachman of Bratslav, "the most important thing is not to be afraid."
     As a proud member congregation of the Union for Reform Judaism, we support its mission of tikkun olam – repairing the world – by enhancing religious freedom, pluralism, acceptance and justice. It is time for our leaders, at all levels, to move beyond public condemnation of these horrific acts, and take actions that will get to the root of hatred and seek to create opportunities that will foster greater understanding between people of different religions, races, ethnicities and cultures.
      It was affirming to come together for the recent vigil in which leaders of multiple faith groups shared their prayers and messages for understanding, embracing diversity and peace.  Just as the members of our local interfaith community have stood with us when Jews have come under attack, so we will continue to stand with others.  Hate is not limited to any group.  Let us strengthen efforts to ensure that "hate has no home here."
     May we never be afraid to stand up proudly as Jews;
     let us raise our voices to speak out for the rights of all to practice their religion in peace and safety and demand the protections guaranteed to us by the founders of this great nation;
     and let us continue to join hands with all who fight against hatred and strive for a time when the lights of peace, friendship and understanding will burn brightly and never be extinguished.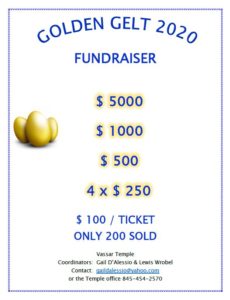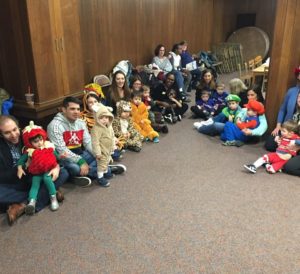 Recent Purim Tot Shabbat!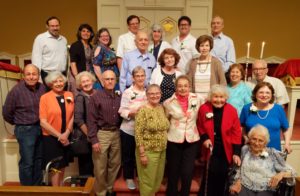 Generational Shabbat 2019 – a Vassar Temple Sisterhood Tradition
Read about it at: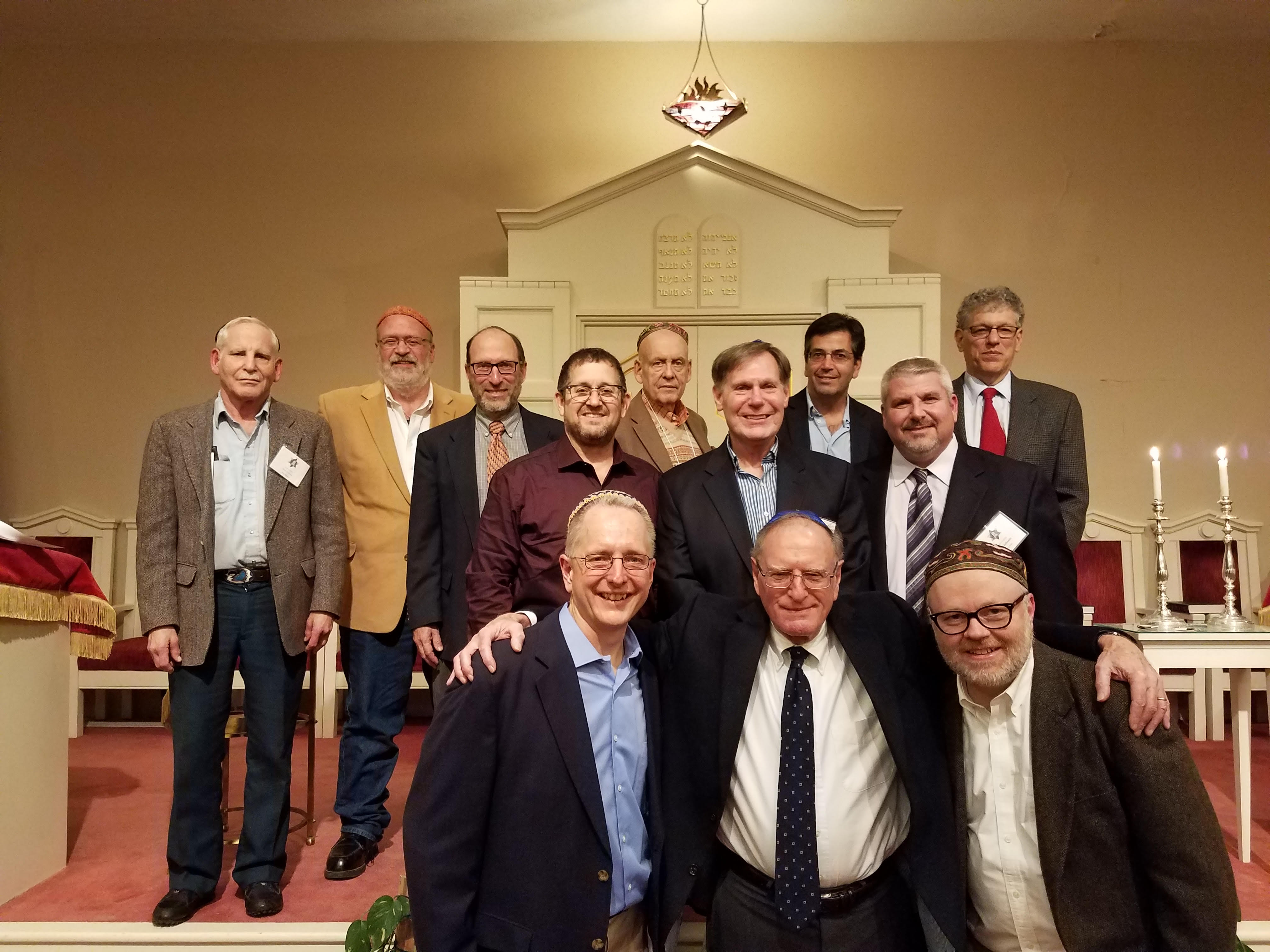 Members of the Vassar Temple Men's Club who participated in the annual Men's Club Shabbat service on November 18, 2016 pose on the Bimah following the service.
Rabbi Paul Golomb, Senior Scholar, honored the group by continuing a recent tradition of reading from the Torah during the service.