Hanukkah Candle Lighting Shabbat Service
Friday, December 3, 6pm, in-person and via Zoom

Come join our family-friendly Hanukkah Shabbat Service led by Rabbi Altman and Cantor Goldmann, with participation by our Temple teens. It will be a hybrid service; in-person and on Zoom. Bring your Hanukkah menorah and candles, or if you're attending on Zoom, be ready to light your menorah along with us at home. We'll carry on our tradition of adding hilarious verses to the "I Have a Little Dreidel" song, so if you have a new verse to contribute, please contact vtritchair@gmail.com ASAP! Holiday To-Go-Neg goodies will be distributed to those attending in person. Chag Sameach! Happy Hanukkah!
Torah Study
Saturday, December 4, 9am
New Paths
Saturday, December 4, 10:15am
Religious School decorates Trim-a-Thanksgiving baskets and plays hopscotch with Hebrew letters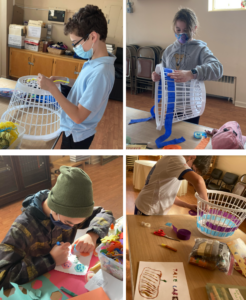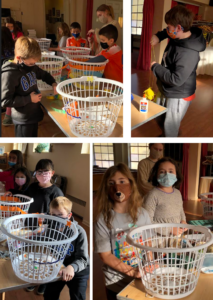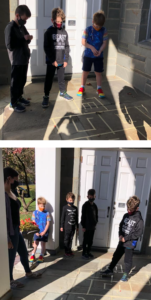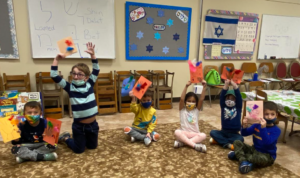 Attached are photos of the Hanukkiot made by Kitah Dalet and one with the kids.  Happy Hanukkah!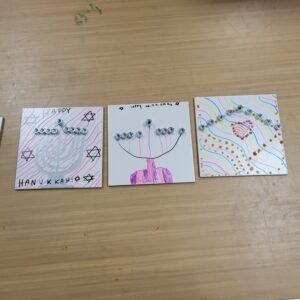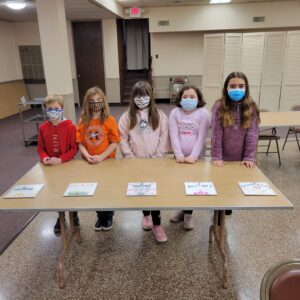 Students lighting the Hanukkiot that they made in religious school at home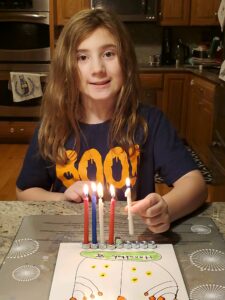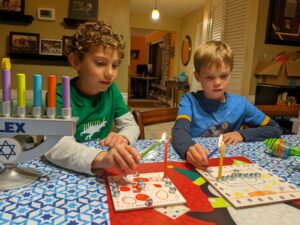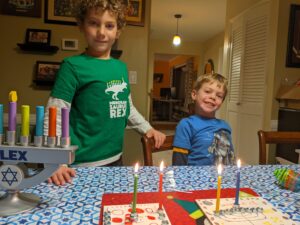 VASSAR TEMPLE COVID POLICY UPDATES
Dear members,
As expected, once again we find ourselves updating our Covid-19 policies in response to changes in NYS guidance as well as feedback to our new survey. As you are likely aware, the State has recently lifted remaining restrictions, with the caveat that unvaccinated individuals should remain masked in many settings. As always, we endeavor to respect the wishes of members while providing as many options as possible for participation; our goal is to strike a balance between robust protection of our community and recognition of the desire and need to return and the benefits of participation. Being part of the Temple community is good for our health!
We are monitoring the daily "case rate" in our region while bearing in mind that our membership may be more vulnerable than the general population due to its average age. Given the current low risk in Dutchess County, effective immediately we will update policies as follows for services (changes in bold).  Should the case rate increase, we will re-implement mask and social distancing requirements, and we have specific markers for these decisions that have been provided by medical professionals. 
Services continue to be open to those that are fully vaccinated or unable to be vaccinated due to medical or age limitations.  Masks are required.  We will continue to ask for confidential vaccine documentation in order to enforce this policy. You can send your card to vaccine@vassartemple.org or present proof upon arrival. Individuals who are unable to be vaccinated due to medical or age limitations must remain masked, and we continue to ask that you let us know if you fall into this category by contacting vaccine@vassartemple.org or reaching out to rabbi@vassartemple.org if needed for a private conversation so that we can put you on our list. 
We ask that everyone refrain from physical contact such as shaking hands or hugging. Hand sanitizer will be readily available, and you must continue to sign in as a precaution. 
An empty row an a minimum of two empty seats between family groups is required.
All services will continue to be hybrid as an option for those who need or prefer to attend virtually. 
As always, please do not enter the Temple for any reason if you are experiencing symptoms or have a known exposure, regardless of vaccine status, in order to protect others. 
The above policy will remain in effect for High Holy Days unless case rates increase – by the same token, should rates continue to fall we will consider additional holiday activities. Please watch your mail later this summer for the High Holy Day mailing with detailed information. Although we have had a robust response to the new survey, it's highly likely that we will ask everyone to provide planned attendance at that point, so that we can monitor capacity for the more heavily attended services. 
Finally, we want to reiterate that our older building does not lend itself easily to improved ventilation. We plan to consult with a professional in this area to determine what means, if any, are available to monitor and improve air exchange in the sanctuary, and we hope to outfit the classrooms and other smaller spaces with air purifiers prior to the beginning of school. 
Thank you as always for your incredible support and trust through this unforeseen ordeal. Being able to gather once again is truly a blessing and occasion for gratitude.  You can reach us at health@vassartemple.org 
TO SEE WHAT'S HAPPENING AT VASSAR TEMPLE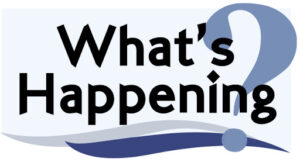 Join a Reform congregation with a rich history and discover the powerful relevance of Judaism today.

Participate in projects that improve our world.

Delight in spiritual and intellectual growth.

Share your joys and challenges and achieve a sense of peace and belonging.

Enjoy opportunities for prayer, learning, social interaction, and Jewish and personal life-cycle support.

Enrich your life with meaningful rituals, caring friendships, and joyful celebrations.

Join a welcoming congregation where you are accepted as you are at any level of involvement.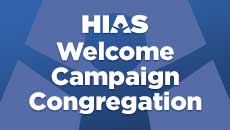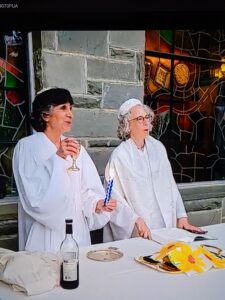 Rabbi Altman and Cantor Goldmann on Yom Kippur 2021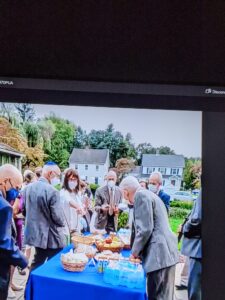 Break fast at Vassar Temple
Vassar Temple members at Unite Against Hate March Rally (Oct. 3) Rabbi Altman, Howard Susser,  Lew and Hilary Wrobel.