Join a Reform congregation with a rich history and discover the powerful relevance of Judaism today.

Participate in projects that improve our world.

Delight in spiritual and intellectual growth.

Share your joys and challenges and achieve a sense of peace and belonging.

Enjoy opportunities for prayer, learning, social interaction, and Jewish and personal life-cycle support.

Enrich your life with meaningful rituals, caring friendships, and joyful celebrations.

Join a welcoming congregation where you are accepted as you are at any level of involvement.
Challah Baking
Come 'Knead" with me!
Want to learn how to make challah?
We will take out the mystery and put in the fun on
Sunday, March 1, 2020 at 9:30am 
to when we are finished [probably by noon]
Learn the basics of making dough: easy!
Learn how to braid a different number of ropes: fun!
Learn how to stuff with your favorite filling: delish!
Just bring a sheet pan and a rolling pin and basting brush
[come even if you don't have one]
Ingredients will be provided by Sandra Mamis
Expect to go home with your own 'ready to bake' challah
RSVPs are a MUST,
so there are enough ingredients for everyone.
RSVP to Sandra Mamis, mamis@optonline.net 
by February 20, 2020
Everyone can bake challah like an expert: no prior experience necessary.
Have questions?  Contact Sandra Mamis at (text or phone): 914-456-3524 or email at mamis@optonline.net
Hope to see you there.
SINGERS NEEDED!
for Disney-themed Purim
Monday, March 9th
All are welcome – experience and talent not required!
No solos – help to lead the congregation!
We will have 2 rehearsals prior to the holiday.
Please contact David Hecht
ritual@vassartemple.org or 845-518-8523
VASSAR TEMPLE LAY-LED SEDER
April 8, 2020, 6pm
Why Is This Night Different From All Others?
Menu:  Matzah Ball Soup, appropriate appetizers, Entrée of either Rotisserie Chicken or Fish, Herbed Vegetables, and selected Pesach desserts. Ritual wine, juice for the kids, and soft drinks will be available.  Additional wine may be brought by attendees as desired.  All food will be kosher-style (not strictly Kosher for Passover). 

This event is not a fundraiser. The fee has been set to cover anticipated costs which include the food, paper goods, personnel and the haggadot.
Adults: $40; Children [5 to 13] $12; Infants/Toddlers Free
The RSVP deadline is March 29, 2020
Checks should be mailed or delivered to the Temple (140 Hooker Ave., Poughkeepsie 12601).  In the memo area please note "Seder" and the number of adults and children with Entrée Choices
Any questions Contact seder@vassartemple.org,  or
Polly Lewis at (845) 476-9778 and Sandra Mamis (914) 456-3524
     With antisemitism on the rise, it is a most unsettling time in our country, especially for the Jewish community, but for all who seek peace and understanding.   Sadly, it does call for greater vigilance and security.  We are grateful that local law enforcement has increased its presence around synagogues, and we appreciate your cooperation with our enhanced building security policies. 
     Even as we must, unfortunately, take these steps, it is incumbent upon us not to let fear inhibit us from living our lives publicly as Jews; for if we do, then those who hate us will indeed be victorious.  "The whole world is a narrow bridge," taught the great Hassidic master Rabbi Nachman of Bratslav, "the most important thing is not to be afraid."
     As a proud member congregation of the Union for Reform Judaism, we support its mission of tikkun olam – repairing the world – by enhancing religious freedom, pluralism, acceptance and justice. It is time for our leaders, at all levels, to move beyond public condemnation of these horrific acts, and take actions that will get to the root of hatred and seek to create opportunities that will foster greater understanding between people of different religions, races, ethnicities and cultures.
      It was affirming to come together for the recent vigil in which leaders of multiple faith groups shared their prayers and messages for understanding, embracing diversity and peace.  Just as the members of our local interfaith community have stood with us when Jews have come under attack, so we will continue to stand with others.  Hate is not limited to any group.  Let us strengthen efforts to ensure that "hate has no home here."
     May we never be afraid to stand up proudly as Jews;
     let us raise our voices to speak out for the rights of all to practice their religion in peace and safety and demand the protections guaranteed to us by the founders of this great nation;
     and let us continue to join hands with all who fight against hatred and strive for a time when the lights of peace, friendship and understanding will burn brightly and never be extinguished.  
A four-part series on Sacred Eating:
Creating a Jewish Food Ethic
March 4 – April 1, 2020
Click here for more details on the
Adult Education Page
BAKERS NEEDED!
Please join us for Sisterhood's annual
HAMANTASCHEN BAKING DAY
 
Sunday, February 23rd
(snow date: 3/1/20)
9:00 to 1:00 in the Temple kitchen
 
RSVP to Judy Rosenfeld
635-2414 or hamantaschen@vassartemple.org
The Vassar Temple Golden Gelt Fundraiser
begins on February 7, 2020
It will be co-chaired by Gail D'Alessio and Lewis Wrobel and again will be a fundraiser of only 200 tickets to be sold for $100.00 each.
There will be 7 cash prizes of varying amounts:
1st Prize:  $5000.00 cash
2nd prize:  $1000.00 cash
3rd prize:  $500.00 cash
4th prizes (4):  $250.00 cash each
For further information email gaildalessio@yahoo.com
We encourage our local businesses to support us
and offer to promote them in the temple bulletin as our thank you.
Drawing will be held on April 26 at 1:00 pm at Vassar Temple and refreshments will be served.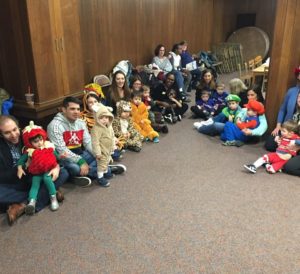 Recent Purim Tot Shabbat!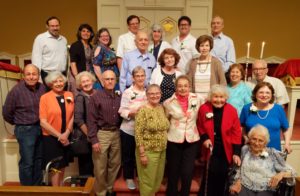 Generational Shabbat 2019 – a Vassar Temple Sisterhood Tradition
Read about it at: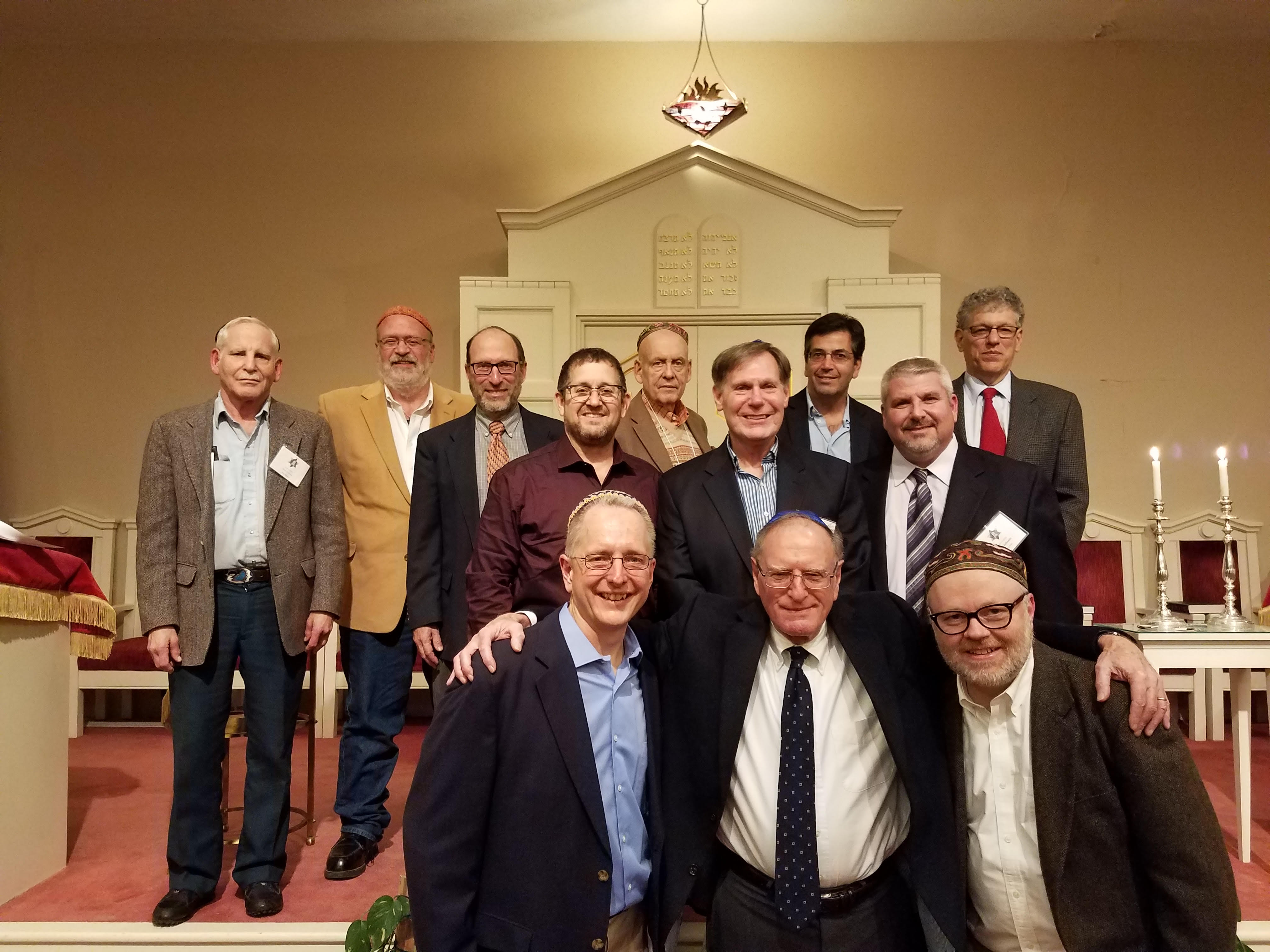 Members of the Vassar Temple Men's Club who participated in the annual Men's Club Shabbat service on November 18, 2016 pose on the Bimah following the service.
Rabbi Paul Golomb, Senior Scholar, honored the group by continuing a recent tradition of reading from the Torah during the service.