Shabbat Service, with by Linda Cantor and Melissa Wall, outdoors & via Zoom
Friday, June 18 at 6:00 pm
Torah Study with Paul Ciminello via Zoom
Saturday, June 19 at 9:00 am
New Paths, lay-led via Zoom
Saturday, June 19 at 10:15 am
VASSAR TEMPLE COVID POLICY UPDATES
We are updating our policy based on the recent CDC and NY State guidance for outdoor and indoor gatherings while continuing to respect the clear mandates expressed in response to our recent survey.
The majority of members prefer that those attending services be vaccinated. We also appreciate that there could be a small segment of our community that is unable to be vaccinated for health or age reasons. Given these parameters, we have developed the following updated policy which covers a range of Temple settings and allows you to make individual decisions based on your own circumstances and comfort level.
 Outdoor services
Open to all
Vaccinated attendees: masks optional; locate your chair based on your own comfort level and respect others' preferences
Unvaccinated attendees must continue to wear masks and maintain social distance
Singing allowed; we will maintain distance between service leaders and attendees
Sign in
Indoor services 
Vaccination required (exemption for those who are unable to be vaccinated, see below)
All attendees will continue to wear masks (including service leaders) in order to maximize protection for those who are unable to be vaccinated as well as increase protection during singing
Singing allowed; the first 2 rows will be cordoned off to maintain distance from service leaders
For the time being, sit with your group and allow an empty row between groups; side to side, allow 2-3 empty seats between groups
Sign in
Vaccination status
We have been advised by the URJ that asking for vaccination status is legal and in no way a violation of medical record confidentiality, as religious organizations are not subject to HIPAA. Service greeters will enforce this policy. Your options for documenting your vaccinated status include:
Share this in advance by sending a photo or scan of your vaccine card to vaccine@vassartemple.org This information will be kept on file for this purpose only and the list provided to service greeters.
Show your vaccine card (original or photo) or digital NYS Excelsior Pass at the door. The greeter will give you the option to be added to the "approved" list.
Use this address to let us know that you have a health or age restriction that makes you unable to be vaccinated. (Parents, please let us know if you plan to attend with children younger than vaccine age.)  If you prefer to have this exchange confidentially with Rabbi Altman, contact rabbi@vassartemple.org and she will list you as "exempt" on the greeters' list without further personal information.  
A reminder
We will transition back to our prayer book, Mishkan T'filah, on June 25th. Earlier indoor services will include visual tefillah on Zoom, and those present in the sanctuary will have the book option. We will have books available during outdoor services. For home participants going forward, please see the information below regarding book options. 
Food
At this time we are holding off on any type of food service…we will get there. 
Day to day visits to the temple and other events
If you are fully vaccinated, it is permissible to enter the temple for individual visits without a mask. If you are not vaccinated, you must continue to wear a mask. 
In lieu of the contact tracing form, we will transition to a posted list of COVID precautions. Should you meet any of the usual criteria for exposure, regardless of vaccination, please do not enter the temple. You are always welcome to call in advance, and we will arrange to meet you at the door to make any needed transactions. We will, however, maintain a simple sign-in book in order to have a record of anyone entering for any reason or event, in case of any exposure.  We will no longer require temperature checks.
Other gatherings (classes, meetings, etc.) will follow the same CDC/NYS guidelines and our policies regarding sign-in, masks, and social distancing. Groups are welcome to make individual decisions about meeting in person as long as these policies are maintained. Please reach out with any questions.  
Updated policies for Religious School will be developed in the near future.
TO SEE WHAT'S HAPPENING AT VASSAR TEMPLE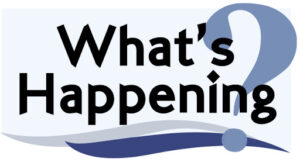 Join a Reform congregation with a rich history and discover the powerful relevance of Judaism today.

Participate in projects that improve our world.

Delight in spiritual and intellectual growth.

Share your joys and challenges and achieve a sense of peace and belonging.

Enjoy opportunities for prayer, learning, social interaction, and Jewish and personal life-cycle support.

Enrich your life with meaningful rituals, caring friendships, and joyful celebrations.

Join a welcoming congregation where you are accepted as you are at any level of involvement.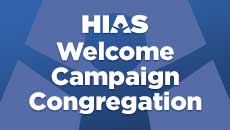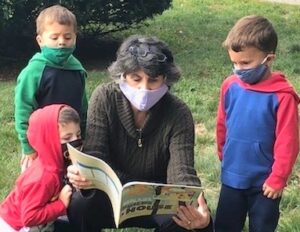 Rabbi Altman at Tiny Temple Sukkot event!
David Hecht Blowing the Shofar at Kaal Rock Park during Tashlich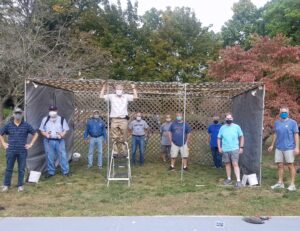 Members of the Vassar Temple Brotherhood assembling the Sukkah in October 2020.