Shabbat Service led by Rabbi Altman

Music with Gail D'Alessio and Melissa Wall

Friday, July 31th

7:30 pm
Torah Study with Rabbi Altman
Saturday, August 1st
9:00 am
Visual Tefillah- no prayer book needed
Join a Reform congregation with a rich history and discover the powerful relevance of Judaism today.

Participate in projects that improve our world.

Delight in spiritual and intellectual growth.

Share your joys and challenges and achieve a sense of peace and belonging.

Enjoy opportunities for prayer, learning, social interaction, and Jewish and personal life-cycle support.

Enrich your life with meaningful rituals, caring friendships, and joyful celebrations.

Join a welcoming congregation where you are accepted as you are at any level of involvement.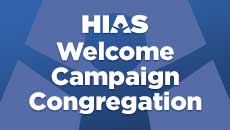 With antisemitism on the rise, it is a most unsettling time in our country, especially for the Jewish community, but for all who seek peace and understanding.   Sadly, it does call for greater vigilance and security.  We are grateful that local law enforcement has increased its presence around synagogues, and we appreciate your cooperation with our enhanced building security policies. 
     Even as we must, unfortunately, take these steps, it is incumbent upon us not to let fear inhibit us from living our lives publicly as Jews; for if we do, then those who hate us will indeed be victorious.  "The whole world is a narrow bridge," taught the great Hassidic master Rabbi Nachman of Bratslav, "the most important thing is not to be afraid."
     As a proud member congregation of the Union for Reform Judaism, we support its mission of tikkun olam – repairing the world – by enhancing religious freedom, pluralism, acceptance, and justice. It is time for our leaders, at all levels, to move beyond public condemnation of these horrific acts, and take actions that will get to the root of hatred and seek to create opportunities that will foster greater understanding between people of different religions, races, ethnicities, and cultures.
      It was affirming to come together for the recent vigil in which leaders of multiple faith groups shared their prayers and messages for understanding, embracing diversity and peace.  Just as the members of our local interfaith community have stood with us when Jews have come under attack, so we will continue to stand with others.  Hate is not limited to any group.  Let us strengthen efforts to ensure that "hate has no home here."
     May we never be afraid to stand up proudly as Jews; let us raise our voices to speak out for the rights of all to practice their religion in peace and safety and demand the protections guaranteed to us by the founders of this great nation; and let us continue to join hands with all who fight against hatred and strive for a time when the lights of peace, friendship, and understanding will burn brightly and never be extinguished.  
TO SEE WHAT'S HAPPENING AT VASSAR TEMPLE
Dear Vassar Temple Members,
We're writing with an update regarding Temple activities during the health crisis.  We continue to be guided by facts, principles espoused by the Reform movement, NYS regulations, and an abundance of caution. Foremost among our guiding values are health and safety for all and respecting the dignity of our employees.
Our committee addressing phase-in, listed below, includes medical professionals from the congregation.  We have also created a robust High Holy Days task force to review every aspect of the holidays; a primary goal will be an upgrade of our live-streaming technology, which will of course benefit us to a far greater extent than just the holidays.  We simply do not yet know what the holidays will bring and have to be ready for anything.  
We are taking stringent health and safety measures that meet NYS and CDC guidance.  The temple is stocked with appropriate supplies.  The office remains closed at this time.  We continue to ask that all possible business be done by phone, email, and mail. Regular contact hours (10-2 daily) are being maintained and, should you have a need that can only be accomplished by an in-person visit, contact the office to schedule this.  All visitors to the temple are required to wear a mask, wash hands upon arrival, and maintain a 6-foot distance. 
NYS guidance currently allows a maximum of 10 people strictly for services and funerals.  You may be aware that there was updated guidance from NYS yesterday stating that, as our region enter Phase 2, religious services can be held in the building at 25% of occupancy.  Given the existing 10-person limit and what would be entailed to make "seats" available for only a few people at a time, as well as the success of our recent experiences with Shabbat services on Zoom, we have continued in that manner (rather than YouTube).  This allows us to see each other and participate in interactive activities.  We are studying the new information and will continue to provide updates regarding any decision we make to move forward.  Even when we move back into the building, virtual attendance will remain an option.  We understand that many members will not feel ready or able to attend in person – possibly for some time. Meanwhile, please continue to join us!  Check your weekly email for the current week's service info.  For security reasons, Zoom links will NOT be posted on the website. 
SCRIP sales have been brisk during the shutdown, and we are very grateful that many of you have supported the temple this way while our in-person fundraising events are hampered.  Please continue to contact scrip@vassartemple.org to place your orders.  And please continue to participate even as things return to normal! 
The Vassar Temple community has continued to care for our neighbors in need – who are impacted to an even greater degree during this crisis – through a strong show of support for The Lunchb Box.  Thank you to all who are doing, and funding this crucial work. 
Our community is not defined by our building, as much as we love to gather there.  We are committed to keeping our congregation healthy and to maintaining communication with you as we navigate these uncharted waters together.  If there is any need that you may have, that we have not addressed, please feel free to reach out to us and we will do our utmost to accommodate you. We want you to remain connected and engaged with Vassar Temple during these very tumultuous times and appreciate your feedback.
With our best wishes for your good health,
Rabbi Renni S. Altman
Alan Kaflowitz, President
Susan Karnes Hecht, 1st Vice President, incoming President
Lisa-Sue Quackenbush, RN, Trustee, incoming 1st Vice President
David Hecht, Ritual and High Holy Day Chair
Andrew Chernack, MD, incoming Trustee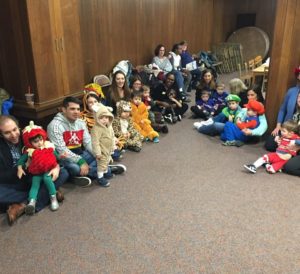 Recent Purim Tot Shabbat!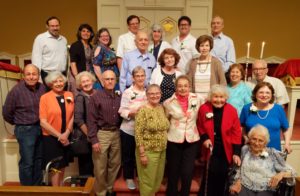 Generational Shabbat 2019 – a Vassar Temple Sisterhood Tradition
Read about it at: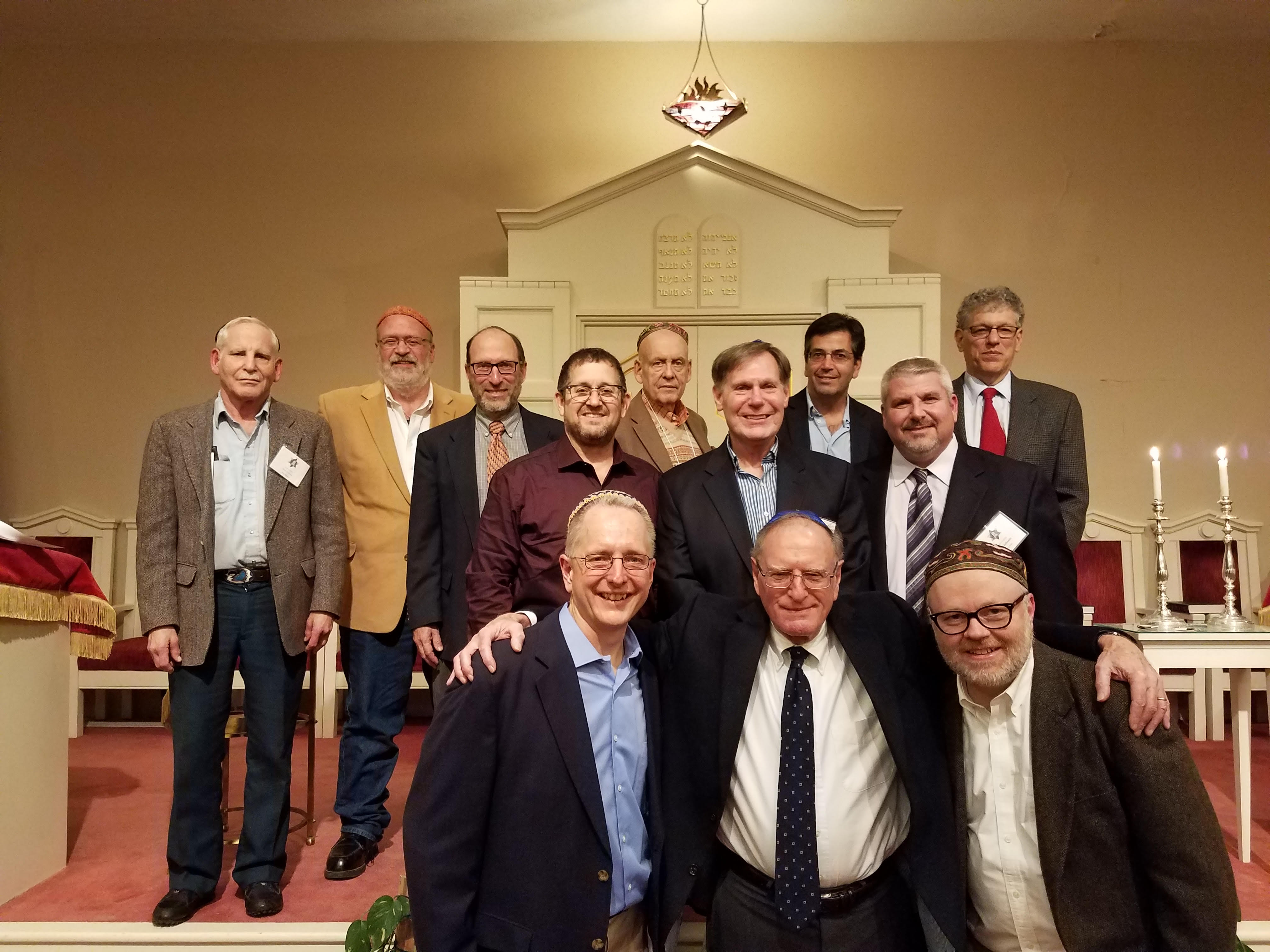 Members of the Vassar Temple Men's Club who participated in the annual Men's Club Shabbat service on November 18, 2016 pose on the Bimah following the service.
Rabbi Paul Golomb, Senior Scholar, honored the group by continuing a recent tradition of reading from the Torah during the service.