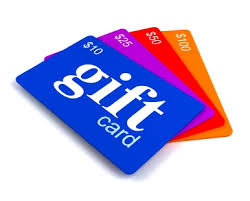 SCRIP is simply a short name for fundraising while you shop!
Over 500 retailers nationwide provide non-profit organizations, such as schools and religious institutions, the opportunity to purchase gift cards at a discount. These cards are then resold by the organization at face value. This is how the organization realizes a profit on the sale of gift cards.  The percent profit is dictated by the retailer and ranges from 1.5% to 18%!  For instance, Macy's gives 10%. So for every $100 card an individual purchases, Vassar Temple earns $10.00.
Since the SCRIP Program's inception at Vassar Temple several years ago,

over $800,000 in cards have been sold, resulting in profit of nearly 0f $60,000

.  Every purchase helped us to reach this goal: $5.00 here, $10.00 there!
It is critically important to understand that no matter how fiscally savvy we are at cost control,  dues simply don't cover annual temple expenses.  The national average amongst congregations like ours with respect to this is that dues cover about 60% of temple expenses with donations and contributions covering the rest. Supporting the SCRIP Program allows people the unique opportunity to financially show their support without spending anything extra in the process.  It is a win-win!
 Frequently Asked Questions
What is SCRIP?
It's really just another name for money. More specifically, SCRIP is money in the form of gift cards from stores you shop at all the time.
What kind of stores?
All kinds. Just to name a few, supermarkets (Stop & Shop and Adams), gas (Shell) pharmarcies (CVS, Walgreens), department stores (Macy's, HomeGoods, Old Navy, Target), restaurants, (Dunkin Donuts, Panera, Starbuck's), and theaters (Regal). Over 500 Merchants to choose from!
Why should I buy SCRIP?
Well, it's a great gift. No size or color issues and … you help the Temple at the same time without any additional cost to you. More about that later.
Where can I find out what other businesses I can get SCRIP for?
The complete list can be found here.
How do I obtain SCRIP?
SCRIP is sold at the Temple during business hours (10-2) M-F, Sunday during religious school hours (9-12), and at Temple meetings. E-Cards can also be purchased using the RaiseRight app and can now be emailed as gifts. 
What if I can't get there during those hours?
Other arrangements can be made. Call Sandra Mamis, SCRIP coordinator, at 914.456.3524 or by email at scrip@vassartemple.org.
How do I pay for SCRIP?
A check made out to Vassar Temple Scrip (write the name of the store in the memo line) or cash is fine.  Send your order to scrip@vassartemple.org or office@vassartemple.org or call the office 845.454.2570 and they will get your order ready for pickup.
Are the cards available immediately?
It depends. Many of the cards will be ready for you in 48 hours (if mailed, sooner in person). Certain cards may be ordered on a monthly basis only; you will be informed of this at the time of purchase.  Cards purchased using the RaiseRight app are available instantaneously
How does SCRIP help the Temple?
When you purchase a gift card at face value from the Temple, a percentage of the sale price comes back to the Temple as revenue. If you buy a SCRIP card from Adams for $100, it will cost you $100 and the Temple will receive $10 back.
Does SCRIP really make a difference?
Absolutely!  In most years, the profit generated varies between $9,000 and $11,000 from SCRIP sales and this was from less than a fourth of the Temple membership participating while offering SCRIP to four local food stores. Imagine how much we can help the Temple if more of us bought SCRIP more regularly knowing that we can use it in more places!